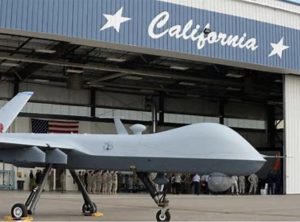 Happy Labor Day from BGI.  BGI supports our customers in a myriad of ways with our work across the country. We do this in excellence. I am honored to hear about the "labor" we accomplish and as such, hope you can join our employee group and take the warranted rest this Labor Day weekend and recharge for the season ahead. BGI operates under one mission with diverse roles across the country. I am sharing an interesting activity of one of our employee groups.
The March AFB MQ-9 BGI employee group directly supports the domestic operations in fighting fires throughout California (CA). The MQ-9s from the 163rd Attack Wing fly around the fires and track the fires' actual progress.  Near real-time map data is then sent to the CalFire command center so they can allocate their resources to best effect. (This used to be done with ground observers and grease pencils.)  CalFire leadership can also look at the video directly if there is a particularly critical situation. Another use of the data is to overlay snapshots of our video or Synthetic Aperture Radar images over Google Earth imagery to show confirmed destruction of property that can then be used to streamline federal emergency relief funds to those affected.  Our BGI employees launch a significant portion of the aircraft for this mission and have again volunteered to do all aspects the mission as we have in the past. This latest time CA HQ wanted the bulk of the mission, besides Launch and Recovery, to be done by the ANG.  We have 6 BGI employees on State Active Duty supporting this effort.
We are both grateful and proud of our March AFB MQ-9 BGI team for their continued support of training and am excited to highlight this interesting work they do in support of the state of CA.  Well done! Your fellow employees at BGI honor you this Labor Day weekend!
https://www.airforcemag.com/guard-aircraft-watching-california-fires-as-blazes-continue-to-spread/